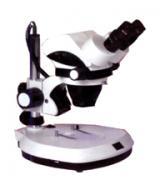 Zoom Stereo Microscopes
Product Description
Stage zoom binocular & trinocular microscope
Zoom Stereo Microscopes offered by us, have the notable feature of utilizing separate optical paths that lead up to each eyepiece. They also often come with a zoom type of continuously variable magnification as opposed to multiple objectives with discrete, fixed levels. This allow quick zoom from low to high magnification. Zoom Stereo Microscopes provides a range of viewing possibilities, and is the single feature that is most useful when selecting a stereoscope. They are very cost effective as well as economical to use.
Features: -
Excellent 3D images with high resolution
Zoom range: 0.7x-4.5x, zoom ratio: 1: 65
Magnification 7X to 45x
Field view: 33 mm to 5.1 mm inbuilt illumination
Once brought in focus, images remains clear throughout whole zoom range
New side mounted zoom controls
Working distance: 108 mm (without auxiliary lens)
Interpupillary distance: adjustable 55 mm - 75 mm
Binocular tube: inclined 45 deg
Diopter adjustable: + 5 diopters
Binocular body: - can be rotated a full 360 deg
A wide variety of auxiliary lens and eyepiece are available as optional
Zoom stereomicroscope is a kind of stereomicroscope, which can magnify micro objects continuously and show clear stereo up right picture. It can be used for observation studies in medical and health, farming and forestry, gemology as well as public security department, school and scientific research instt and also used for inspections, assembling and repair of tiny precision spare parts in electronics and precisions industries.
Trinocular Zoom Stereo Microscope
Same as binocular of above model, except with additional vertical tube. Generally this model is recommended for microphotography and CCTV system.
Optional Accessories: -
A) 0.35X objective WD 200 mm.
B) 0.5X objective WD 133 mm.
C) 0.63X objective WD 92 mm
D) 0.75X objective WD 89 mm
E) 1.5X objective WD 33 mm
Contact Us
No-5309/27, Punjabi Mohalla, Ambala Cantt, Haryana, 133001, India
Phone :+918037401905