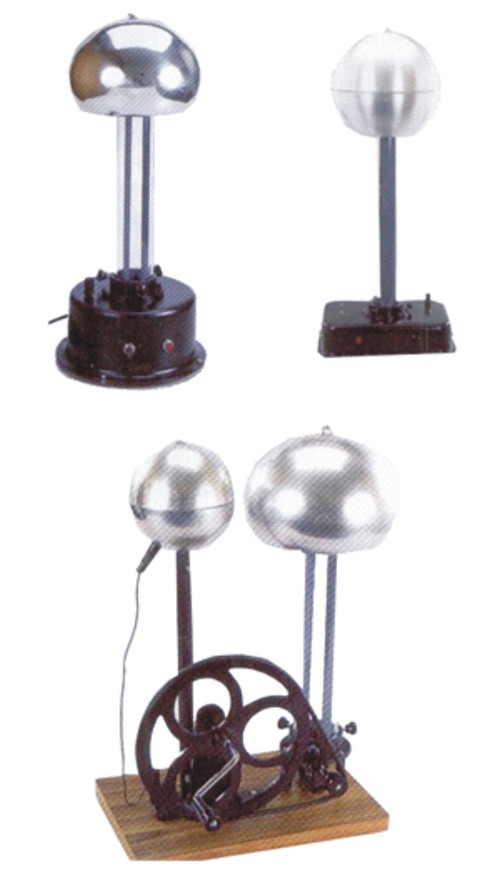 VAN DE GRAFF GENERATOR, 220 V
Product Description
For Demonstrates of electrostatic phenomena. For 110V generates.
A.) 7" dome. Motor driven. The motor operates at speeds up to 2400 r.p.m. Complete with a removable, flat, rubber belts; a polished and detachable metal dome; 4mm socket terminals in dome and base for attaching accessories under favorable weather conditions, the generator can give a spark to 4", yielding a potential difference of approx. 100,000V. Ready for operation with a 1.5m, 3 core mains cable instruction included.
B.) Large, 10' dome. Variable speed motor operates at speed up to 5000 r.p.m. Metal dome consists of two hemispheres and is mounted on an insulated, perspex pillar. With rubber belt and 4mm socket terminals on base for earth connection. ON/OFF switch with indicator. Rotary knob for controlling speed of rotation of belt. Produces spark up to 8" under favorable whether conditions. Ready for operation with a 3core mains cable. With instructions.
C.)
Hand driven Van de Graff generator. Similar to 1364A. Mounted on wooden base with discharge sphere. Belt and pulley driving arrangement for manual operation. Spark up to 4cm.
Contact Us
No-5309/27, Punjabi Mohalla, Ambala Cantt, Haryana, 133001, India
Phone :+918037401905