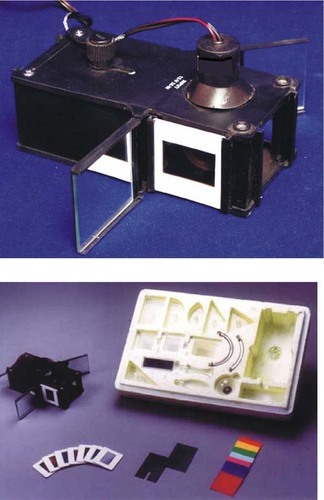 Light Box & Optics Kit
Product Description
Light Box & Optics Kit
Specially designed Light Box, black. Top and bottom capable of withstanding heat of the bulb. A 12V 24W, bulb has a special filament and is fitted in a holder through the top. A cylindrical, concave lens, which can create divergent, convergent, or parallel rays, as required, is mounted in front of the bulb and can be moved to-and-fro for focus. Other end of box has triple aperture system. Hinged windows along the sides of the box have mirror surface on their insides, useful for color-mixing experiments. All windows in the box have channels inside and outside to hold slit plates and color filters. A 1.5m electric cord, ending in one each red and black banana plugs, is included. With detailed instruction manual.
· Five perspex blocks, free of optical imperfections and sharp edges: 1 rectangle, 1 triangle 60°-60°-60°, 1 triangle 90°-60°-30°, 1 triangle 90°-45°-45°, and 1 semi circle.
· Three Perspex, cylindrical lenses: 1 double-convex, and 1 double-concave, both with the same radius of curvature; and 1 thick double convex.
· Three mirrors, free-standing, highly-polished: 1 plane mounted, 1 semi-circular metallic, and 1 parabolic.
· Two slit plates, metal, matte-black: one with three narrow slits at one end, and one narrow slit at the other; the other with four narrow slits at one end, and one wider slit at the other.
· Nine color filters, mounted: 3 primary and 5 secondary colors, 1 showing effects of color mixing.
· Eight color cards.
· Spare bulb.
All the optical accessories have grounded bottom for clear view of passing rays and small knob at the top for holding them properly. The completely kit comes neatly packed in specially designed Expanded Polystyrene storage box.
Contact Us
No-5309/27, Punjabi Mohalla, Ambala Cantt, Haryana, 133001, India
Phone :+918037401905