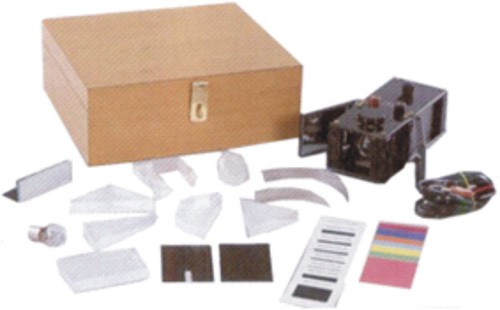 LIGHT BOX
Product Description
LIGHT BOX

Box, 16.5L x 7W x 6cm H, matte block. Top and bottom are made of plastic and not affected by heat of bulb. A 12-V, vertical filament bulb is fitted in a holder through top of box. A cylindrical, concave lens which can create divergent, convergent or parallel rays, as required is suspended in front of the bulb at one end of the box, and can be moved to and fro for focus and is fixed in position by a tightening screw on top of the box. Other end of box has triple aperture system. Hinged windows along the sides of the box have mirror surface on their insides, useful for color mixing experiments. All windows in the box have vertical channels inside and outside to hold slit plates and color filters. A 1.5m electric cord, ending in one each red and black banana plugs is included with instructions.
OPTICAL SET FOR LIGHT BOX
A. Five perspex blocks, free of optical imperfections and sharp edges: 1 rectangle, 1 triangle 60°-60°-60°, 1 triangle 90°-60°-30° 1 triangle 90°-45°-45°, and 1 semi circle.
B. Three perspex, cylindrical lenses : 1 double convex and 1 double concave both with the same radius of curvature, and 1 thick double convex.
C. Three mirrors, free-standing, highly polished: 1 plane mounted1 1 semi circular metallic and 1 parabolic.
D. Two slit plates, metal, matte-black: one with three narrow slits at one end, and one narrow slit at the other; the other with four narrow slits at one end, and one wider slit at the other,
E. Eight color filters, mounted : 3 primary and 5 secondary colors.
F. Eight color cards mounted.
G. Spare bulb 12V
H. Wood box : light box and accessories housed in a sturdy 25x24x10 cm wooden box with compartments. One compartment is for the light box; the other has expanded polystyrene seats for optical accessories.
Contact Us
No-5309/27, Punjabi Mohalla, Ambala Cantt, Haryana, 133001, India
Phone :+918037401905