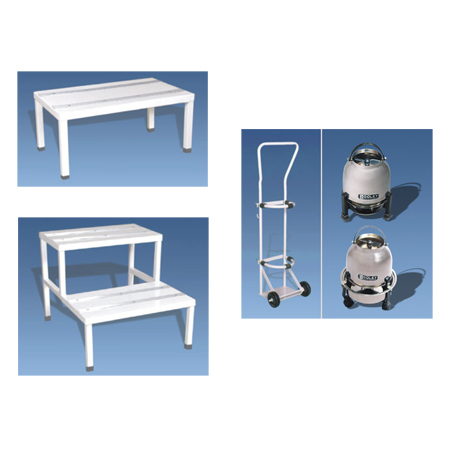 Foot Step
Product Description
Foot Step, Cylinder Trolley, Aerosol Fumigator
FOOT STEP (SINGLE)
Overall approximate size:
510 mm (L) x 300 mm (W) x 230 mm (H)
MS tubular framework of machine pressed CRCA sheet. Legs fitted with rubber shoes. Pre treated and Epoxy powder coated.

Optional Accessories
Aluminium treated flats on Top.
FOOT STEP (DOUBLE)
Height: 230 / 450 mm
Step size: 510 mm (L) x 300 mm (W)
MS Tubular framework with two steps of machine pressed CRCA sheet. Steps fitted with aluminium treated flats. Legs fitted with rubber shoes. pre treated and Epoxy powder coated. Supplied in knocked down condition.

Optional Accessories
Aluminium treated flats on Top.
CYLINDER TROLLEY in Other's
Overall approximate size:
Seat Size: 1060 mm (H)
MS Steel tubular frame work fitted with two 100 mm dia. swiveling castors. Suitable to hold 10 liter water capacity size cylinder. Pre treated and Epxoy powder coated.

AEROSOL FUMIGATOR
Overall approximate size:
385 mm dia. x 465 mm (H)
Aerosol Disinfector made of thick stainless steel conforming to having tray capacity 1.5/5 liters. Approximate weight: 11 kg.
Contact Us
No-5309/27, Punjabi Mohalla, Ambala Cantt, Haryana, 133001, India
Phone :+918037401905