Economical Inclined Microscopes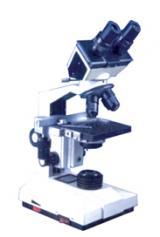 Economical Inclined Microscopes
Product Description
Inclined Monocular & Binocular Microscope Model
Features: -

You may need to Look no further than this page to find the microscope thats just right for your teaching requirements- whether it's for a higher secondary school science classroom or a college lab. This model is user-friendly instrument, full size rugged cast metal construction, pearl gray finish for durability and controls that your students will find easy to manipulate.
Revolving quadruple nose piece
Standard achromatic par focal objective 4x, 10x, 40x (SL) & oil immersion 100x (SL)
Strain free WF 10x & Huygenian eyepiece 6x.
45o inclined fully rotating monocular head
Illumination by 6 volt, 20W halogen bulb (solid state control)
Abbe type N.A. 1.25 condenser with iris diaphragm.
Low position coarse and calibrated fine focus control
Fixed large stage 120x140 mm with fixed mechanical stage.
Contact Us
No-5309/27, Punjabi Mohalla, Ambala Cantt, Haryana, 133001, India
Phone :+918037401905