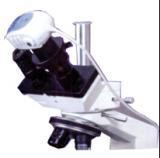 Digital Microscopy Cameras
Product Description
Digital Microscopy Cameras
Digital Microscopy Cameras is a highly popular digital unit whichgives the high definition digital image of the viewing sample in laboratories and forensic departments to easily study the displayed image. It is manufactured by using premium quality optical equipment for higher resolution output. It is provided with a 1/2 inchCMOS image sensor with a transmission speed of 30 frames per second. The connecting cable is fixed with a universal serial bus to make connection with the devices like laptop and computers.
Features: -

BM -1000 is high-resolution 1280x1024 pixel CMOS digital camera. It adopts high performance USB 2.0. The transmission speed is 30 f/s.
Image sensor: 1/2 inch CMOS
Image format: 1280x1024
USB - 2.0 compatible
1.3 Mega pixel CMOS imaging chip will turn microscope into a truly multimedia experience.
With the help of standard C-mount, we can use this camera to any binocular or Trinocular microscope.
Comes with caliper plus software.
Supplied without microscope & without Computer/Laptop

Only Digital Camera 1.3 Mega pixels with USB 2.0. Compatible with Microscope adopter or some other accessories.
Features: -
High-resolution 1600x1200 pixels CMOS digital camera. It adopts high performance USB 2.0. The transmission speed is 30 f/s.
Image sensor: 1/2 inch CMOS
Image format: 1600x1200
USB - 2.0 compatible
2.0 Mega pixel CMOS imaging chip will turn microscope into a truly multimedia experience.
With the help of standard C-mount, we can use this camera to any Trinocular Microscope.
Comes with the caliper plus software.
Supplied without microscope & without computer/Laptop
Contact Us
No-5309/27, Punjabi Mohalla, Ambala Cantt, Haryana, 133001, India
Phone :+918037401905